Five years ago I officially began my professional journey as a Digital Marketing Strategist.
I was 30 years old. I had just finished my Bachelors. We had a newborn and I was homeschooling our 2 oldest.
What was I thinking?
An entrepreneur to my core, I had just sold my Wedding Invitation Company to my business partner, and completely shifted careers in the midst of a major family overload, while in-between a military relocation. If you have three kids and move a lot, you totally know what I'm talking about.
It wasn't pretty. But my passion was mounting, and a goal emerged to become the kind of marketer that would disrupt the industry in the best possible ways. At that point in time it seemed to prove a mounting task among a sea of marketers, in an overly saturated market.
For those of us knee deep in the marketing industry, we are well aware of the day to day problems within our professional field. One of the major problems is the lack of ability to quantify marketing efforts. On top of that, making measureable improvements is like turning an aircraft carrier. It's possible, but it takes patience, purpose and commitment. Having a military background myself, I was trained to do just that. So I've been applying committed patience with the same gusto I started with, 5 years ago.
Of course, a lot of what I do goes unnoticed. I work quietly behind the scenes in my field and have been growing my online presence steadily during my Two Minute Tip Tuesday show on Faceobok.  Most likely you are discovering me for the very first time and wondering where the heck I've been for 5 years. I've been here, persistently becoming a better marketer. Ticking away at my objective to make a significant difference in the marketing industry by transitioning one company at a time to successfully launching their own digital marketing best practices.
I'm no different than any other trades(wo)men and I rely on very specific tools of the trade to support my quest to become a master marketer. As I was recently talking to a good friend on the phone about marketing, he asked me specifically about what I thought about Agorapulse. Besides, I constantly talk about the tool on my social stories. By this point most people who follow me know the tools I use, and Agorpulse is on the top of my list.
That conversation with Bill, D.C. Metro based sales Manager for Bauscher Hepp, Inc., caused me to dive deep into the why behind my reliance on this favored tool of the trade. All of a sudden I was able to articulate to Bill all the ways I've become a better Marketer thanks to the tool.  At some point the lightbulb went off and just like that everything I've been doing over the years, thanks so Agorapluse, finally came together in full clarity.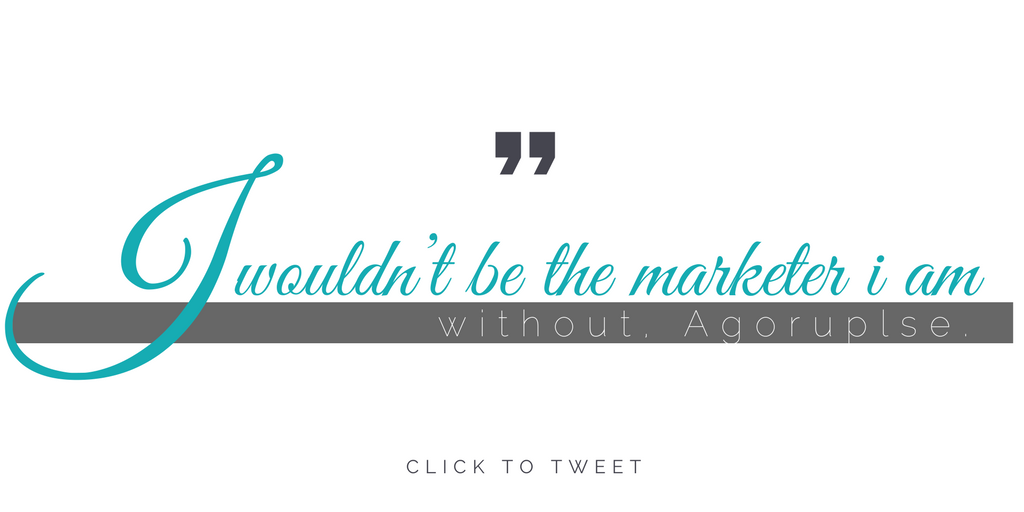 You know when you are sitting on something good. Great even! Could be an idea, a thought, a bit of info or even a chair. But it's so wonderfu you just have to share?! For today, Agoruplse is my chair and if you are working in the marketing industry and share my passion to be a better marketer, this is sure to offer you intense value.
So here goes, these are the top four verifiable ways Agorapulse has contributed to my success as a marketer.
The Ability to Measure Engagement.
Drawing the link between a social strategy that leads to incresaed revenue with your organization is one of the most crucial elements to determining if your strategy is working.
I hear it all the time!
"I post stuff on Facebook but no one ever responds, so what's the point."
The point is, the amount of times your fans interact with your content has a direct effect on your organic engagement rates. Then, your organic engagement rates have a direct link to dollars spent with your organization. It really is as simple as that. Now, it gets a lot more difficult when making the determination of what content to share, because your content quality effects engagement. If people aren't engaging, you aren't speaking to them. I get more into that in a post called, "How Content Creation Effects Our Marketing Strategy." But for now, It's important for me to point out that I may have never discovered this foundational anchor without having access to the Agorpulse ROI tool.
For an example,  I'm going to use a recent client of mine, Orbix Hot Glass. When I first started working with Orbix, in the spring of 2017, they had an 8% engagement rate. Not too shabby considering most expert marketers agree that the industry standard is 2.3%. Immediately, we made it a goal to hit 15%. Not knowing how long it would take, we just created a benchmarked to work towards and adjusted to monthly reports.
It took us about 3  months to hit 15%, thanks to our highly engaging content plan that spoke directly to their fans. Within 6 months we hit 28% organic engagement!!!  During that 6 months, we ran one ad that was geared towards email signups around a giveaway. Other than that, this increase was strictly due to the content. We were seeing it in the reports every month, and continuously fine tuning to tick closer to the goal.
At the end of the 6 months, the ROI tool in Agorupulse was calculating an increased $8,200. This was suggesting that they made $8K more during the 6 months we worked together, than the 6 months prior.  I asked my client if she could confirm that and her reply shocked me.
"Sarah, we actually made $10, 000 more!"
In that moment, I realized I had accomplished my biggest professional goal which was to make simple and trackable correlations out of my clients social presence that could prove profits were increasing.
I discovered what the "ROI of Social Media" for my client was, thanks to Agorpulse!

In-depth Reporting Capabilities.
One of the reasons clients, 1. stay loyal to me over a long period of time and 2. hire me in the first place is due to the fact that I come with such a powerful reporting tool. I pull monthly reports for my clients that allows us to take an acute look at what is happening with their online presence. This includes the good, bad and everything in between. Together, we make adjustments based on what the reports reveal. That allows us to follow goals and objectives to completion as we continuously streamline efforts that have continuously allowed me to grow communities that market for them.
I've learned (the hard way) that digital marketing can be extremely intangible at times. So finding ways to make my work quantifiable is something I rely heavily on as an indented marketing strategist. Without Agorpulse, I'm not sure how else would have been able to prove my worth to my clients so accurately.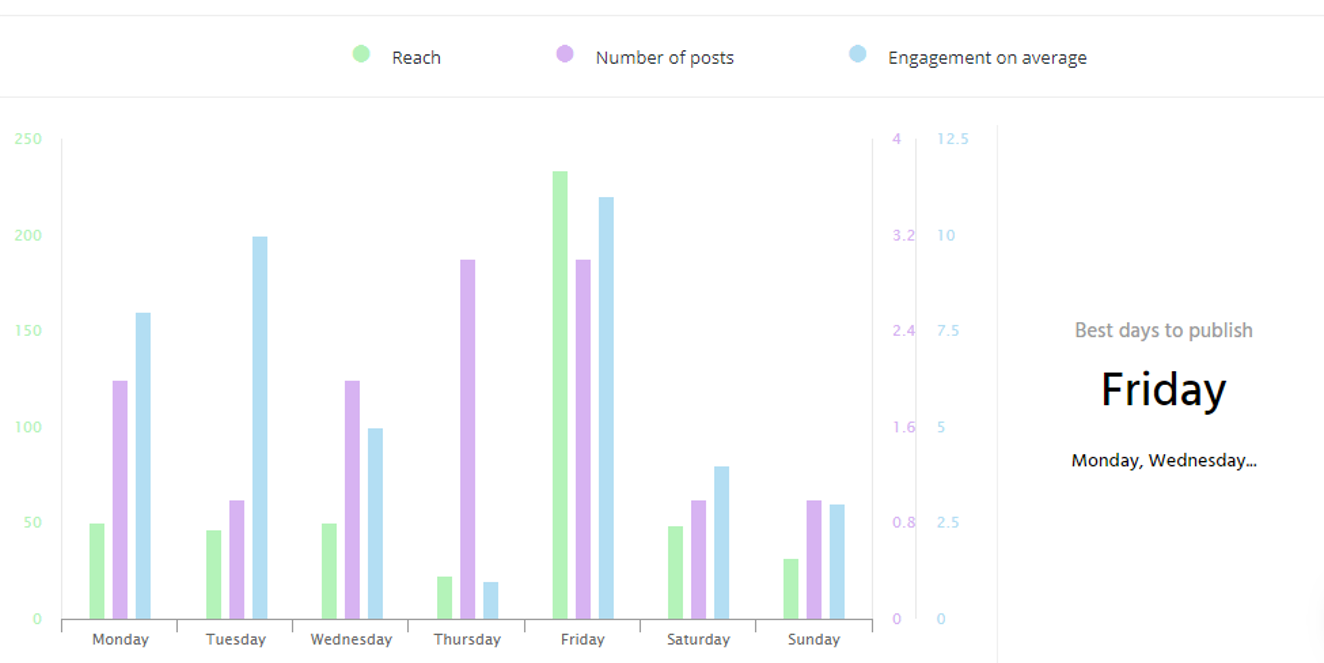 Competitor Analysis Monitoring.
Ever wonder what your competitors are up to? Ever wonder how your online presence stacks up?
With Agoropulse you can add up to 5 competitors which keeps a track on several important benchmarks, such as engagement rates, likes, interactions, page posts and fan posts.
It's one of my favorite features, and I've actually adapted the use of this tool a bit.
For the same client, we do keep an eye on competitors. But honestly, they are beating all local competitors in social performance so we use the competitor analysis tool to create long-term goals. Kind of like putting a picture of a fitness model on your refrigerator door to remind you of your weight goals; we've placed huge industry related brands in their profile in order to reach towards the larger goal.
Every month, when I pull the report, it reminds me to take a look at what the industry giants are doing on social media. We then analyze what they are doing different or even better then find ways to push our efforts towards their goal in a way that closes the competitive gap.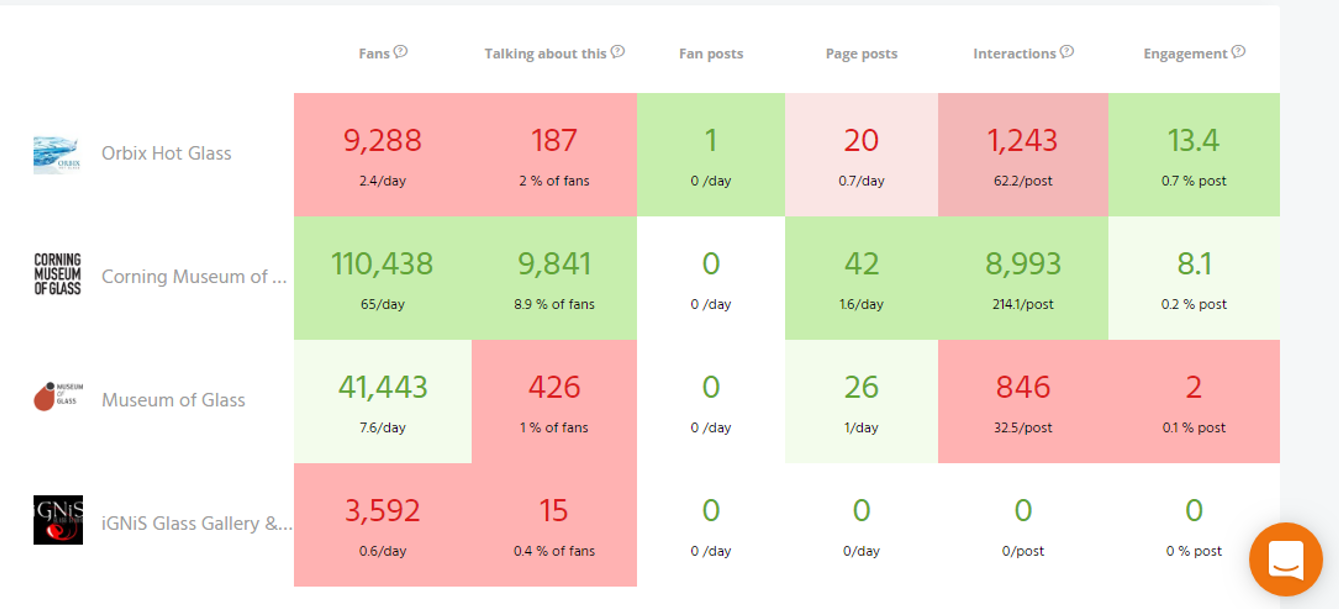 Join forces with Team Integration.
When I'm first bringing new clients through the onboarding process I'm often asked, "so who approves all this content you will be making."
My answer, "You will!"
Agorupluse has the ability to assign "team members" to individual accounts. When you assign members they only have access to the accounts you want them to have access to.
While I'm going through the content creation process, I assign every piece of content to my clients for them to go in and approve. They see the same calendar format I do. But I've taught them that when they see the "yellow dots" that's their prompt there is content waiting for approval. Typically, I send them an email reminder when I'm finished and then offer a deadline for them to approve by. They are able to go in, edit, adjust, reassign, make notes and approve.
This allows me to look professionally organized in a way that sets me apart from other social media managers and again, I have Agorpulse to thank.

One of the biggest issues plaguing the marketing industry is the fact that there is a severe lack of measurement that takes place on a consistent basis. In fact, if you are a marketer seeking employment in an agency or on a corporate marketing team the role now requires you to have historical capabilities of measuring results.
It's clear that those in the position to hire undoubtedly understand the importance of measuring digital marketing efforts. However, there is a disparity between the need and experience when it comes to such a vital element of modern digital marketing. One of the superior strengths of social management tool,  Agorapulse,  is the fact that it has so many measurement features.
Some tools I've tried in the past were so robust I wasn't even sure what to do with all the data. Not Agorapulse.
Their promise to make "Simplify Social Media Management", is executed with the power to "Harness your social media content and engagement with the easiest and most affordable social media management tool for teams and agencies."
By now I'm sure it's pretty clear that I wouldn't of made the professional leaps in my marketing journey without them.
To Emeric, and the whole Agorapulse Team: Thank you! Looking forward to discovering what I can accomplish for my clients over the years to come.