"Good morning, today is Trend Tuesday!"
That's what Instagram followers hear every morning as I open a daily story where I spend one hour a day studying and learning very specific topics that I believe marketers need to know in order to future-proof their careers. In real time, and in the midst of a major market shift, I'm motivated to creatively find a competitive edge to stay relevant in an ever-shifting industry.
The premise of the daily Instagram Story "show" is broken down into six niche topics that I am convinced will be mandatory learning for future CMO's. So, I am actively and very publicly learning these key topics in real time to keenly understand how to best help businesses I work with and for to move into the next phase of marketing more seamlessly.
🌎 Meta Monday – One of the largest social platforms in the world is betting BIG on the Metaverse. As Marketers, should we?
📉 Trend Tuesday – Not the shiny things, but consumer mindsets.
🌐 Web 3.0 Wednesday – The web is changing, again! Marketers need to know how and why!
💎 Thriving Thursday – What I'm doing and learning to future proof my marketing career? Let me show you!
📋 Foundation Friday – No, not the makeup. (Duh) The Strategy!
🧦 Sock it to Me, Saturday – This is where you tell me what I need to work on. Yes, really!!!
After a brief introduction of how the show will work and what followers can expect – I'm kicking things off a bit differently that I'm anticipating it to function in the future. Got to keep things interesting, right?!
During the first "Tech Tuesday" In introduced my Instagram community to Sandy Carter. A long time role model of mine and the most recent Vice President of Strategic Partnerships and Channel Chief for Amazon Web Services. With her announcement to move to Unstoppable Domains, her shift and forthcoming predications have absolutely stopped me in my tracks.  If you've followed Sandy's career you know she is extremely engulfed in the tech world and her keen pulse on the future of the internet always causes me to sit up and listen.
So, what's happening and why is she shifting?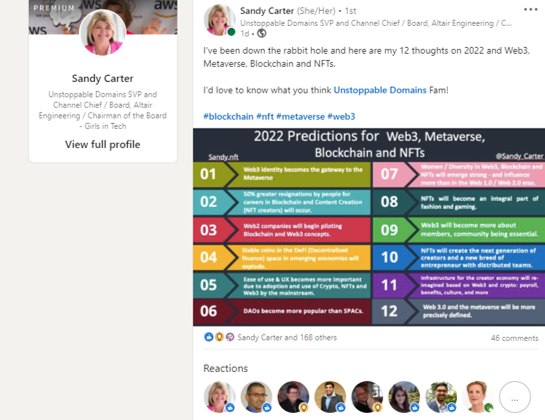 Yesterday she posted this to LinkedIn which has me focused on learning more about her top 12 predictions for internet evolution from Web 2.0 to 3.0. On the Instagram show, I've begun researching – in real time – what this means to us as marketers.
From where I'm sitting now, which is at absolute ground zero, the blockchain, NFT's, the Metaverse and Web 3.0 are beginning to coalesce and the best I can make of it is this. With much synergy is something that marketers have been heavily focused on for years – a shift to community development. Seems like with that shift sets up the anticipated ecosystem in 3.0 quite nicely, as users will get power over their privacy back. Limiting the accumulating "bag of tricks" that Web 2.0 evolved into and Web 3.0. seems to be working hard to combat.
It seems like that with the shift also comes more of a responsibility for users to take on their persona's which will weigh heavily on their online image with a much heavier consideration of how your online clout will compare to your real-world respect.
Of course, the most important goal seems to be built around completely decentralizing the web for the evolving information technology ecosystem. This may sound great in theory, but at this moment in time it seems the concept is WAY too complicated for the average marketer and consumer. So, the question remains to be seen if that is true or not and what are you doing about it?
Educational reference articles include: https://www.nasdaq.com/articles/web-3.0-is-too-complicated and https://www.entrepreneur.com/article/403948