As the digital economy develops we see an increase of vulnerable and authentic business leaders who are leading the charge by simply staying true to themselves, causing a new market to emerge.  The transparent market is where business gets done by folks who are not afraid to stand up and be who they are meant to be. It's inspiring at the very least and life changing at the very most. But, we typically watch at a distance and whisper things to ourselves like, "I wish I had their boldness."
We do!
Truth is, it's just as hard for others as it is for us, the difference is they made a choice to stand firm and so can we! From Birmingham's youngest Mayor in over a century, to the world's boldest marketer, Sloss Tech once again reminded me how to be a better version of myself, and when a conference can remind you to be better at life you know it's epic!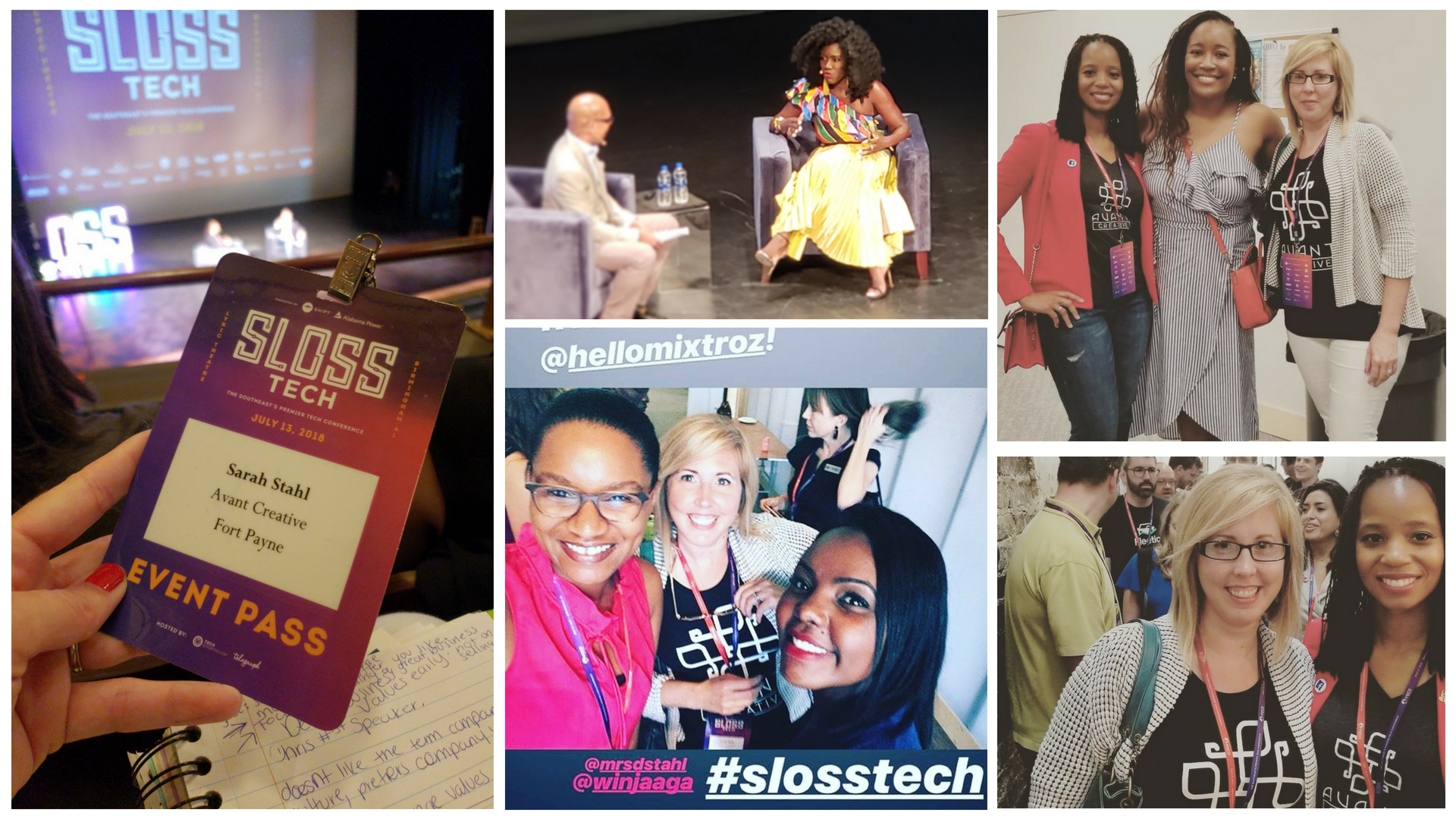 I'd like to start by recapping three years of experience into one overall impact that Sloss Tech has had on the way I do business. Year one, "7 reasons to regret missing Birmingham's first technology conference", year two was all about "How Sloss Tech 2017 Made Me a Better, UHM…Everything!" But, year 3 stood out to me in a whole new way.
This year was different than years passed for several reasons, mainly because of the connections that were made. One of which was Kevin McLendon, CEO of Telegraph Creative, whose company had a major hand in the video productions shown during the day, which were completely on point.
As a young conference I'm sure they are experiencing some pretty major wins as well as growing pains on their way to becoming the Southeast's most respected tech conference, and the following truths are what I consider some of the most impressive shifts that were explored on Friday.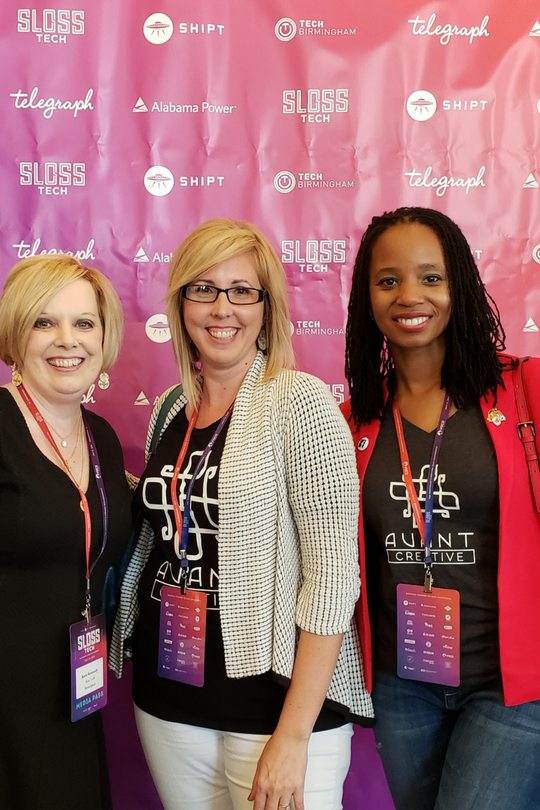 The Truth about City & Political Cohesion
The morning started when the city's youngest mayor introduced a discussion with a heavy focus on the three things every community needs in order to grow and change in the right ways.
The need for investors.
The need for legitimate talent.
Leadership  supportive environment that bridges investors and talent.
Honest about still battling major issues such as 30% poverty, the newly appointed and highly transparent city leader is working to back the innovative infrastructure needed to have all the right pieces in place to properly set the groundwork for Birmingham's tech scene advancement.
One of his most enlightened quotes is something any city can strive for.
"We don't need to be like any other city, we just need to be the best next version of ourselves."
He went on to say "the south has something to say" and the example of Shipt's evolution is a perfect example of how all three growth touchpoints are firing on all cylinders and incubating an environment of tech minded change.
The Truth about Speaker Talent
Sloss tech started three years ago with a bang, headlining Gary Vaynerchuk. In fact, if they hadn't started so boldly I wonder if entrepreneurs in Alabama would of even taken them as seriously.  In the past two years they've had speakers like:
Will Pearson, Co-founder of Mental Floss
Dr. Julian Maha, Founder & CEO of Kulture City
Gordy Stewart, Toyota marketing innovator interviewing Tiki Barber
Tiki Barber, former NFL star, Co-Founder/Co-Chairman at Thuzio & CBS Radio Host
Cliff Sims, Founder of Yellow Hammer News and currently on President Trump's communications team.
Elizabeth Pharo, Chair at Momentum Telcom.
Casey Neistat, YouTuber and Advertising extraordinaire graced the lyric theater and this year they lit up the stage once again.
I anxiously awaited all year long to see how the staff would outdo previous years and they certainly didn't disappoint. The only downside is I learned more about each of the speaker's personal careers than how those careers impacted the tech industry. I would have liked to have gone away with a lot more "ah ha's" than "good for you's."  Although, I certainly didn't walk away empty handed. This year's headliner, Bozama Saint John has officially introduced me to a new marketing role model that inspired me in ways I wasn't expecting.
She talked truthfully and honestly from mommy guilt to board room confidence, and everything in between. All of which were topics I could relate to and had never received much professional guidance on. By the time her hour long interview was up, I felt like I could go out and rule the world and according to a lot of the tweet's I saw under the #SlossTech2018 hashtag, I wasn't alone.
The Truth about Modern Networking
For tech minded professionals, especially from out of town, who were eagerly anticipating making real connection that past years have been a bit difficult to execute on. In fact, in the past two years of attending Sloss Tech hadn't resulted in any authentic in person connections, until this point.
Sure, following the live hashtag conversation allowed me to connect with folks and spark online connections that have since blossomed into great relationships. But nothing has yet to compare to the networking opportunities that were fused into this year's event.
This year's networking event, organized and presented by MixTrox allowed our team to get paired up and connected in real life with people interested in things we were. In fact, their whole mission is to get professionals to stop "networking" and start connecting! By downloading the app and answering a series of prompted questions, the lunchtime attendees were paired up with others in the room who had similar interests. Once we were paired up we followed a few ice breaker questions, also prompted by the app, in order to break out into deeper conversation.
In the group I was paired up with, I met Cierra Floyd Education Manager at The Birmingham Museum of Art. We instantly connected, talked the entire time about working out and eating well as we quickly learned we were on a similar health journey. The best part, we hardly talked business at all.
Weird right?! Not to me. It was such a breath of fresh air to be at a conference with like-minded folks where we had the chance to connect as people and not just professionals! Adding MixTrox to the connection mix, was an incredible element. Would love to see that explored more next year.
As a marketer fed up with the blurred line between marketing and sales/advertising the redefined sales model absolutely delighted me! In fact, when I first started in business about a decade ago all I saw was the old model of "always be selling" rampant through common business practices. It wasn't until I discovered Gary Vaynerchuk six years ago that he gave empathetic entrepreneurs like myself the green light to market with our hearts. Managing profitable relationships, which truly is marketing in it's purest sense.
Chris Moody, CEO of The Foundry Group, cracked the topic wide open with his bold and expert reminders about the importance of only selling when someone makes you an offer, until that point just focus on building a great business. He went on to explain what makes a great business.
Defining business values early to ensure properly alignment with quality talent.
Then, hire great people and trust them to do great things.
Invest in people to ensure their brains are used to their fullest potential.
He even had a really neat experiment to try during the hiring process in order to ensure foundational values are the perfect match.
"Make your values sound as bad as you possibly can, the right people will always make the cut."
Nowhere did he talk about the importance of qualifying leads, building a pipeline or any of the other terms that describe the hunt of a new customer. If you have a good business, backed by an incredible team it won't be long till customers are coming to you.