You can no longer avoid it…
Marketing has changed. In fact in the article "7 ways marketing has changed", Ilana Rabinowitz breaks down how to adapt when making the switch to Social Media Marketing.
Here is a visual breakdown of what I consider 6 of the most important changes…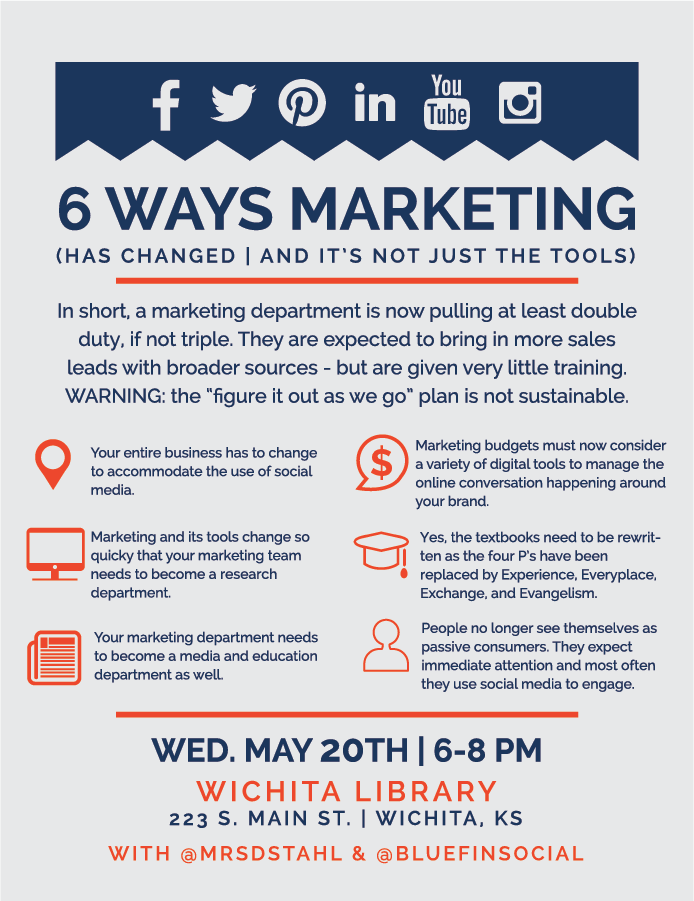 I know it's not going to be easy to hear, but it's time to rip the Band-Aid off…
Ready?
If you are marketing using "traditional" marketing tactics, your business will not make the successful transition to Social Media Marketing. Why? Because, traditional tactics just don't work on Social.
The future of marketing was yesterday and your customers are expected to communicate in a whole new way; have you adapted?
Good news is, we would like to help you make the switch!
Joshua Hensley, the owner of Blue Fin Social Media, and I have partnered up to provide  advanced Social Media training to Wichita business owners looking to make an effective transition.
Our free class will explain the necessary steps to shift from traditional marketing  to savvy social methods worthy of growing a modest following of fans who are eager to market for you.
And yes, it's possible! But we'll discuss that more during the class.
Speaking of which, our class outline includes the following topics:
Determine your Target Market Using Social Media

Creating a Social Media plan

Create engaging content that speaks your customer's language

Inbound v.s outbound marketing

Grow your Social Media accounts; organically

How to get the most out of your Analytics
Join us Wednesday, May 20th from 6-8 at the @wichitalibrary for a Free #socialmediamarketing class with @mrsdstahl and @BlueFinSocial -Tweet it!
The class will be held at the Downtown Branch located at 223 S Main St. Wichita, KS
But wait there's more! (I've watched way too many infomercials, obviously!)
During the class…
We will conduct a real-time contest giving attendees a chance to win a one-on-one social media consult with both Joshua and I.  We will personally review the winner's current web marketing strategy and give custom instructions on how to improve marketing goals; during a scheduled appointment.
To enter the contest…
Seminar attendees must tweet or post images representing seminar lessons learned using a specific hashtag #marketingmatters and tagging @mrsdstahl and @BlueFinSocial during the seminar.  Attendees may use Twitter or Instagram to post using these requirements.
At the end of the seminar, two winners will be selected; one with the most creative tweet and one with the most creative Instagram update.
Plan to join us?
With only 30 available spots, please give us a heads up by saving your seat on our FACEBOOK EVENT page.